Amber Lynn Rock'N'SeXXXy UnCensored & cohost  Kristen Renton, Welcome to This Week's RNSU Show- Iconic 80's Hollywood Billboard Queen ANGELYNE- "Earth Girls are Easy, Dangerous Love",with a contest to win a ride in her infamous "Hot Pink Corvette", also  Brian Corsetti Host of Fox Tv's "Hollywood Scoop" ENTV 
Amber Lynn's New Resident Cohost  Kristen Renton who is known for her role she plays as porn star Ima Tite on the popular FX Tv show "Sons of Anarchy," returns this week to
 RNSU  to Join Amber Lynn Live in the studio with special featured guests; " The Iconic 80's Billboard Queen"  Angelyne, "Earth girls are Easy", "Dangerous Love", and a contest to win a ride in Angelyne's infamous"Hot Pink Corvette", also Brian Corsetti Host of Fox Tv's "Hollywood Scoop" and more.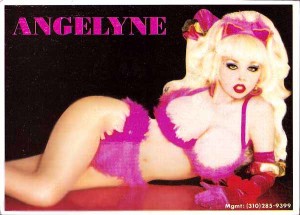 SHERMAN OAKS, Calif – Amber Lynn Rock'N'SeXXXy-Uncensored has been working overtime taking the radio airwaves by storm each week with celebrity guests and cohosts from the Adult, Mainstream,& Music world even more exciting than the last and this Thursdays' RNSU show promises to be no exception
FX TV's "Son's of Anarchy' star Kristen Renton is back as cohost and Joins Amber Lynn in welcoming to this weeks RNSU broadcast the "Iconic Hollywood Billboard Queen," ANGELYNE". who rose to instant fame in the 80's when billboards popped up ALL over "Hollywood", with the
"Platinum haired, baby faced sexpot, pornstar lookalike geared towards promoting her "Punk" band- 'Angelyne. she has been known around Hollywood' circles for racing about town in her signature "Hot Pink Corvette" which sports her trademark name on the liscense plate. She has amassed fame, fortune and notariety marketing her image, and appearing on famous billboards which have been featured in movies  like "Moonlighting" and "Escape from L.A.,her own appearance in "B' movies, and magazines of her own label, and has left her own signature lipstick mark on"Hollywood History".  Listeners who wish to enter the contest to "Win a Ride in Angelyne's Car", can do so by emailing, "Why I Want to Ride in Angelyne's Car" to AngelyneFanClub@yahoo.com- the winners to be announced ON Air during the LIVE RNSU broadcast Thursday night. Also joining the cast of Rock-N-SeXXXy-Uncensored Thursday night Brian Corsetti, host of Fox Tv's "Hollywood Scoop', whos has interviewed top celebrity's world wide, including Reese Witherspoon.   "Once again Super Excited about Thursdays RNSU show rumours for years about the backing behind the Angelyne Billboards have circled, and we come to find out she is a "Punk Rocker Chick" from way back,and with her Hot Blond looks a perfect fit for RockNSeXXXy, we can't wait to hear about her "Hollywood escapades, and pick a lucky winner for the contest to "Win a Ride in her Corvette." say's host Amber Lynn, and "Brian Corsetti is sure to have some great stories to tell from his interviews on the "Hollywood Scoop", as he joins as cohost as well".As Always Fans are encouraged to CALL IN and join the Fun at 323 203 0815
Kristen's reccurring role of porn star Ima Tite has made her popular with SAMCRO fans. Soap opera fans remember her from her role as Morgan Hollingsworth on NBC's "Days of Our Lives."  Other television work includes appearances on "The OC," "The Glades," "Arrested Development," "CSI NY" and "CSI Miami," to name just a few. and Amber Lynn, well after 30 years in the adult business and over 350 popular  movies, and 200 magazines and Feature dancing all across the US and Canada, Everyone know's Miss Amber Lynn.
JOIN AMBER LYNN ROCK'N'SEXXXY UNCENSORED
this Thursday,September 25-7pm PT/10pm ET on LATalkRadio.com and Stitcher.com. Visit the RNSU Blog for guest updates, photos, news and sponsorship information at Rock-N-SeXXXy-Uncensored.com follow us Twitter/ @RockNSeXXXyU Amber Lynn/@XXXAmberLynn