FOR IMMEDIATE RELEASE TONITE
Aug 10, 2017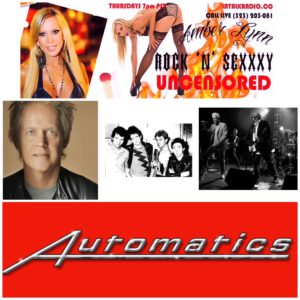 Legendary punk retro band "Automatics" frontman David Philp drops new album release news  on Amber Lynn's Rock'N'SexxxyU Thursday
Amber Lynn Rock'N'SeXXXyUncensored LATalkRadio welcomes music guest punk English punk retro legends the "Automatics" frontman David Philp talking the new album release "West Of Wherever" tonight 7PmPST/10pmEST.
HOLLYWOOD, Calif,  – Amber Lynn Rock'N'SeXXXy Uncensored on LATalkRadio has been working overtime, taking the radio airwaves by storm each week – with celebrity guests and co-hosts from the music, film and entertainment world – making each week more exciting than the last. This week's RNSU show promises to be no exception.
This week Amber Lynn's LATalkRadio show Rock'N'SeXXXyU Welcomes music guest, punk retro legend  David Philp, the "Automatics" singer/ songwriter/ frontman of the "old school" 70's English Punk Rock band, who came up with other legendary famous acts of the times like  "The Sex Pistols" and "The Damned" playing the famous London hot spot "The Marquee Club". They produced the number one song on the charts of the time "When the Tanks Roll over Poland',which was big  in the Punk circles and made their way touring England with the "Heartbreaker's" and Johnny Thunder". That was then and this is now, and the have "officially" announced the release of a new album release called "West of Wherever" which RNSU listeners will get to hear a taste of tonight, Philp will be live on the show and available to take calls from fans at 323 203 0815 .
Join AMBER LYNN ROCK'N'SEXXXYU this Thursday, Aug. 7pm PT/10pm ET on LATalkRadio.com and Stitcher.com.
Visit the RNSU Blog at ROCK-N-SEXXXY-UNCENSORED.COM for guest updates, photos, news. If you miss the show, download it at iTunes. And please, follow us on twitter @RockNSeXXXyU