Amber Lynn & Cohost  SOA Kristen Renton,  who plays porn star Ima Tite on popular show "Sons of Anarchy;"  Welcome "Real American Outlaw Motorcycle Legend" Rusty Coones, lead guitarist of Attika 7, seen on ", FX TV's "Son's of Anarchy" new season as Rane Quinn & his beautiful wife "Co Philanthropist" KO Coones –Bob Guiney, "The Bachelorette", "The Bachelor", host "GSNLive", Playboy's "Bob & Jessica Live" lead singer "Fat Amy"  & Tiffany Kathryn Hayden star of  "America's Next Great Trainer', Muscle & Fitness, Ironman mags.  Sonya Eddy also joins!!!!!
SHERMAN OAKS, Calif – Amber Lynn Rock'N'SeXXXy-Uncensored has been working overtime taking the radio airwaves by storm each week with celebrity guests and cohosts from the Adult, Mainstream,& Music world's even more exciting than the last and this Thursdays RNSU show promises to be no exception.
RNSU Welcomes," Real American Outlaw Motorcycle Legend" Rusty Coones, you may know him as FX TV " Sons of Anarchy" Rane Quinn a Redwood original member of SAMCRO or the towering lead guitarist of Attika 7 fronted by TV star "OZ" and former pornstar Evan Seinfeld visiting over 40 cities nationwide in 2013. Rusty, also founded "Illusion Cycles" of O.C. and has built some of the most exotic creations on two wheels. Any & all would agree this 6ft 6 inch Beast is"The Real Deal"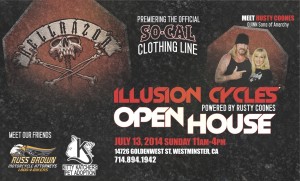 Behind every great successful badass motor cycle "Legend" is a "Smokin hot' "RocknSexxxy" babe, enter KO Coones, Rusty's gorgeous wife, co-founder of "Illusion Cycles" OC & co philanthropist, Lucky Us! She is also one the most amazing big hearted women I've ever had the pleasure to be aquainted with beautiful both on the inside and out, working tirelessly for charities such as "Wounded Warriors" and others. This Sunday July 13, 2014  " Illusion Cycles" in  Orange County, California is having an open house charity benefit all proceeds go to "Kitty Katchers" pet adoption. Rusty is very busy with preperations for this weekend and shooting the 7th season of FxSOA but he's promised to do his best to check in with the sexxxy patrol this Thursday along with KO to give RNSU all the details so cross your fingers and  tune in for more info.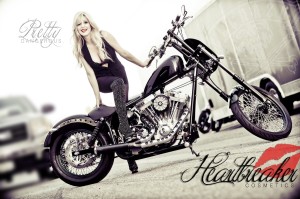 Bob Guiney was on the first season of "The Bachelorette", and then later as "The Bachelor", he also hosted "GSN LIVE, and currently host's Playboys' "Bob & Jessica LIVE" along with the beautiful Jessica Hall, who rocked it on RNSU just a couple of weeks ago. Bob can also be seen on the "Today Show" and is finishing up his 4th studio album with his band "Fat Amy". AKA "The Bob Guiney Band". Bob also serves as the lead singer along with several other prominent actors on "Band From TV", who has appeared on "American Idol" & "Tonight Show", with Jay Leno. Bob and his band have raised over 2 million dollars for charities the last 5 years. "He's also pretty hot along with being funny and a great guy", boasts RNSU cohost Kristen Renton.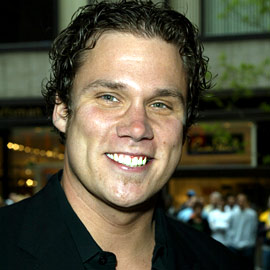 Add to all this just a dash of  major hard body honey, Tiffany Kathryn Hayden star of "America's Next Great Trainer" & cover model for "Muscle and Fitness" and "Iron Man", "NPC", "Bull's Eye" with tips to whip everyone into top notch shape, This Thursday July 10 Rock-N-SeXXXy-Uncensored promises to be another exciting adventure!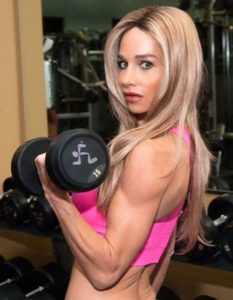 Kristen's reoccurring role of porn star Ima Tite has made her popular with SAMCRO fans. Soap opera fans remember her from her role as Morgan Hollingsworth on NBC's "Days of Our Lives."  Other television work includes appearances on "The OC," "The Glades," "Arrested Development," "CSI NY" and "CSI Miami," to name just a few.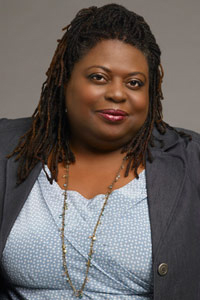 Sonya Eddy, most known for her role as Epiphany Johnson in General Hospital, will also be joining us!
JOIN AMBER LYNN ROCK'N'SEXXXY UNCENSORED
Sponsored by Hustler Hollywood, this Thursday, July 10 , 7pm PT/10pm ET on LATalkRadio.com and Stitcher.com. Call US LIVE on air at 323 203- 0815 join the fun
Visit the RNSU Blog for guest updates, photos, news. If you miss the show, download it at iTunes. Check out our Blog: Rock-n-Sexxxy-Uncensored. com And please, follow us @RockNSeXXXyU @XXXAmberLynns