FOR IMMEDIATE RELEASE
June 15, 2017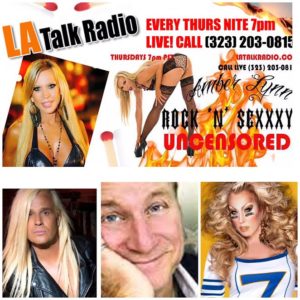 Iconic Drag Queen DJ Chi Chi La Rue, Messiah of Makeover Daniel DiCriscio, Comedian Mike Marino on Amber Lynn's Rock'N'Sexxxy Thursday
Amber Lynn Rock'N'SeXXXyUncensored LATalkRadio welcomes Iconic Drag Queen  DJ Chi Chi La Rue, Messiah of Makeover Daniel DiCriscio, and  NJ's Bad Boy Comedian Mike Marino.
HOLLYWOOD, Calif – Amber Lynn Rock'N'SeXXXy Uncensored on LATalkRadio has been working overtime, taking the radio airwaves by storm each week – with celebrity guests and co-hosts from the music, film and entertainment world – making each week more exciting than the last. This week's RNSU show promises to be no exception.
This week RNSU host Amber Lynn hosts another amazingly diverse guest line-up sure to tantalize and please her listeners. Daniel DiCriscio the celebrity hairdresser known as "The Makeover Messiah" who's famous for his work on A-List celebrities Pamela Anderson, Stevie Nicks, the late Anna Nichole Smith, Marilyn Manson, and Paula Jones (think Clinton Sex-Scandal Era), he's been busy with a new movie "Tre' Zom Bikers" and an album release "X Sex".
Then, New Jersey's Bad Boy Italian comic with a tongue like a razor and a heart of gold, re-known and loved Mike Marino is back, this week live in the studio as he's in town currently appearing this Friday June 16 at "The HaHa Comedy Club".
To cap it off, Iconic Drag Queen DJ Chi Chi La Rue who's built an empire in the gay adult movie world, while out dressing many top females in the straight adult world for more than 3 decades, also added appearing on a top 10 album on a Bill Board chart when she was featured on fellow Icon Ru Paul's album "Realness" which went # 6, she was a guest vocalist on the song "LGBT". Although La Rue built her fame as a director she now can be seen DJ'ing at clubs, festivals and live events.
Join AMBER LYNN ROCK'N'SEXXXYU this Thursday, June 15, 7pm PT/10pm ET on LATalkRadio.com and Stitcher.com.
Visit the RNSU Blog at ROCK-N-SEXXXY-UNCENSORED.COM for guest updates, photos, news. If you miss the show, download it at iTunes. And please, follow us on twitter @RockNSeXXXyU , @XXXAmberLynns