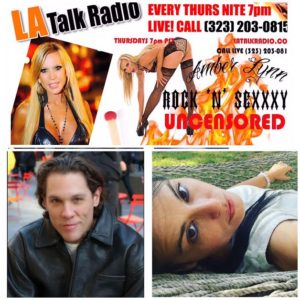 Actress, Producer Alexis Lacono "The Black Dahlia""Nations Fire""Grand Theft Auto", Actor, Comedian Joshua Paled "Kitty Citi" (Netflix) on Amber Lynn's Rock'N'SexxxyU Thursday
Amber Lynn Rock'N'SeXXXyUncensored LATalkRadio welcomes actress, producer  Alexis Lacono "The Black Dahlia", "The Meadow Lark", "Long Live the King","World of Warcraft", "Grand Theft Auto", "Nations Fire", and actor, comedian Joshua Paled, "Kitty Citi" (Netflix), "Blue Collar Boys","The Keeper", "B.R.O.O.D.", 
HOLLYWOOD, Calif – Amber Lynn Rock'N'SeXXXy Uncensored on LATalkRadio has been working overtime, taking the radio airwaves by storm each week – with celebrity guests and co-hosts from the music, film and entertainment world – making each week more exciting than the last. This week's RNSU show promises to be no exception.
This week Amber Lynn welcomes actress, producer Alexis Lacono and actor comedian Joshua Paled. Alexis Lacono came to the attention of audiences world wide for her female gobblin voice character in "World of Warcraft Cataclysm" and the newest installment of "World of Warcraft Legion" as the voice of Naga. Her breakthrough stage performance was performing as scream queen Fay Wray as a little girl in "The Meadow Lark". She appears in the new documentary "Long Live The King" with Greg Nicatero (The Walking Dead). After being recognized as one of the sniper shooting victims in "Blue Caprice" directed by Alexandre Moor her career was rapidly discovered by the horror genre where she was cast in the Penny Dreadful show "The Slaughter House". Perhaps she is most known for her eerie portrayal of Elizabeth Short in "The Black Dahlia Haunting". Currently she just wrapped production of award-winning director Thomas J. Churchill's newest epic "Nation's Fire" starring Krista Grotte and Kristen Renton. These days she is an independent film producer, she produced "The Pipeline" starring Barry Corbin, Wes Studi, and Brian Howe, and she is the founder of Cowboy City casting
Then actor, comedian on the rise Joshua Paled joins the show he has appeared in feature films "Blue Collar Boys" (2013), "The Keeper"(2013), and B.R.O.O.D. (2013) he's currently shooting a Netflix pilot called "Kitty Citi" where he plays an anti hero character Andrew Dawson a devious power hungry district attorney. You can currently catch him performing his stand up act at 'Gotham Comedy Club new talent show cases in NY as well as throughout NYC open mic circuit. As a native New Yorker born and raised in Queens to Israeli immigrants, Josh uses his experiences growing up with a father in the adult entertainment industry to share a hilarious, often heart breaking and often silly perspective on life.
Join AMBER LYNN ROCK'N'SEXXXYU this Thursday, July 6, 7pm PT/10pm ET on LATalkRadio.com and Stitcher.com.
Visit the RNSU Blog at ROCK-N-SEXXXY-UNCENSORED.COM for guest updates, photos, news. If you miss the show, download it at iTunes. And please, follow us on twitter @RockNSeXXXyU