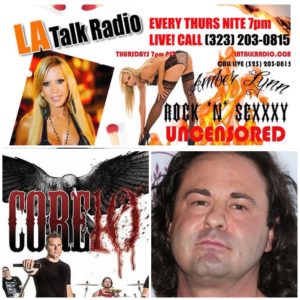 FOR IMMEDIATE RELEASE
Feb 22, 2017- LATalkRadio 7pmPT
Legendary Ex Korn drummer David Silveria on his new band Core 10 and their latest single "Introspection", and Celebrity Matchmaker Volt Connection's Sandy Dapoz  join Amber Lynn's Rock'N'SexxxyU Thursday.
 Amber Lynn Rock'N'SeXXXyUncensored LATalkRadio  Ex Korn drummer David Silveria shares his newest single with his current band Core 10 , and Sandy Dapoz celebrity matchmaker founder of Volt Connection Celebrity Dating, Matchmaking live on RNSU  7PmPST/10pmEST.
HOLLYWOOD, Calif,  – Amber Lynn Rock'N'SeXXXy Uncensored on LATalkRadio has been working overtime, taking the radio airwaves by storm each week – with celebrity guests and co-hosts from the music, film and entertainment world – making each week more exciting than the last. This week's RNSU show promises to be no exception.
This week Amber Lynn Rock'N'SeXXXy Uncensored welcomes  music industry mega talent David Silveria, he is the original drummer and founding member of  nu metal giant "Korn" the Grammy award winning band from Bakersfield California formed in 1993, in fact, it has been said that Silveria's drumming "May have been the best thing about Korn". He left the band in 2006 and joined INFINIKA which disbanded in 2015, and now he's back. In January with the announcement at the 2018 NAMM show of his new band CORE 10 along with co-member's Duncan Nisbet (guitar), Sean Lenhoff (vocals), Chris Dorame (bass), Jack Taback (guitar), and Ronnie King on (keyboards) he has the rock/metal world a buzz once- again with excitement waiting for their new music releases. Recently, inking a deal with Grammy nominated producer Ulrich Wilds label WURM group to release their debut album "Unforgotten" which Silveria will be live on the show discussing and premier their latest single "Introspection" for RNSU listeners as he sits in with host Amber Lynn for an uncensored talk on his prolific music career, whats next for Core 10 and information on upcoming tour dates.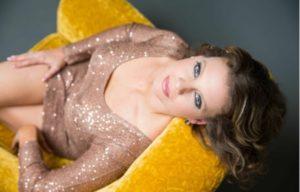 also joining the show Sandy Dapoz, Celebrity Matchmaker & Dating Expert and founder of Volt Connection matchmaking dating service Toronto- Los Angeles, she is guest writer, for Dirty & Thirty online magazine will be on the show with some matchmaking tips and dating advice on how to avoid dating disaster's and find the partner of your dreams.
This is gonna be a really fun show fans and listeners wont wanna miss so make sure you tune in!
Fans are encouraged to call in and join the fun at 323 203 0815.

Join AMBER LYNN ROCK'N'SEXXXYU this Thursday, Feb 22, 7pm PT/10pm ET on ,LATalkRadio.com and Stitcher.com.

 Visit the RNSU Blog at ROCK-N-SEXXXY-UNCENSORED.COM for guest updates, photos, news. If you miss the show, download it at iTunes. And please, follow us on twitter @RockNSeXXXyU