FOR IMMEDIATE RELEASE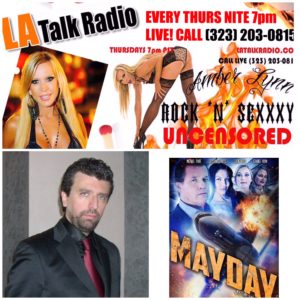 Award- winning horror film director and producer Massimiliano Cerchi discusses his new movie  MayDay starring Michael Pare' and Elice Muller on Amber Lynn's Rock'N'SexxxyU Thursday
Amber Lynn Rock'N'SeXXXyUncensored LATalkRadio welcomes award-winning Horror film director producer Massimiliano Cerchi  discussing details of his newest movie "MayDay" starring Michael Pare', and  Elice Muller. 7PmPST/10pmEST.
HOLLYWOOD, Calif,  – Amber Lynn Rock'N'SeXXXy Uncensored on LATalkRadio has been working overtime, taking the radio airwaves by storm each week – with celebrity guests and co-hosts from the music, film and entertainment world – making each week more exciting than the last. This week's RNSU show promises to be no exception.
This week Amber Lynn's LATalkRadio show Rock'N'SeXXXyU  sits down with award – winning Horror film director and producer .Massimiliano Cerchi. Born in Italy, he relocated to the U.S. to study and pursue his work where he shot his first film in 1993, "Creatures from the Abyss". His work has been featured at national and international film festivals, Some of his best work can be seen in films "The Roomate", "Dreadtime Stories", and "Deviant Behavior", as well as well as his recent cult classic hit "Insane" which came out this year. He will be live on Rock'N'SeXXXyU this Thursday discussing his new upcoming movie "MayDay" which stars Michael Pare' and Elice Muller, and highlights from his movie making career.
Also, what we can do to reach out, donate, and lend a hand to those people and pets who's lives have been devastated by Hurricane Irma, and Hurricane Harvey. Fans can call in and join the show at 323 203-0815.
Join AMBER LYNN ROCK'N'SEXXXYU this Thursday, Sept. 14  7pm PT/10pm ET on LATalkRadio.com and Stitcher.com.
Visit the RNSU Blog at ROCK-N-SEXXXY-UNCENSORED.COM for guest updates, photos, news. If you miss the show, download it at iTunes. And please, follow us on twitter @RockNSeXXXyU