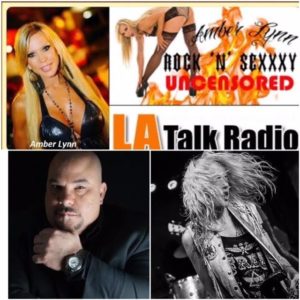 Amber Lynn Rock'N'SeXXXy Uncensored Welcomes, Award Winning Director, Writer, Producer Actor Thomas J. Churchill "Checkpoint", "The Rack Pack", and  Hollywood's Punk Rock Princess, The Fabulous Miss Wendy, guitarist for SLASH to this weeks show.
HOLLYWOOD, Calif – Amber Lynn Rock'N'SeXXXy-Uncensored has been working overtime taking the radio airwaves by storm each week with celebrity guests and co hosts from the Adult, Mainstream,& Music world even more exciting than the last and this Thursdays RNSU show promises to be no exception.
This Thursday on Rock'N'SeXXXy Uncensored, Amber Lynn welcomes award winning director, writer, actor, producer Thomas J. Churchill who has several succesful projects he will be discussing on the show this week, Samurai Cop 2: Deadly Vengence, Checkpoint which he wrote, directed and produced, is being released by Sony pictures he co-stars with William Forsythe, Bill Goldberg, Fred "The Hammer" Wiiliamson and Kenny Johnson from Bates Motel and Son's of Anarchy. He has also appeared in the ScyFy channels popular show Monster Man, Lazarus:Apocalypse starring James Duval, and Stephen Geoffreys. He is currently in post production on his family film The Rack Pack starring C. Thomas Howell and this is just to name a few.
then RNSU presents this weeks music guest Hollywood born rocker The Fabulous Miss Wendy, Hollywoods punk rock princess already the sexiest rockstar ever according to Revolver magazine.From her start as the lead in Nickelodeon's all girl rock band she has been destined for greatness. In 2011 she released her self titled debut LP produced  by Devo's Gerald Casale, engineerd by Goo Goo Dolls wizard Paul David Hagar which six out of ten tracks from were chosen to be played on VH1's hit shows "The Pick Up Artist", and "Tough Love". Her video "I Like Boy's" was nominated for LOGOS sexiest videos. Perhaps her biggest honor was being signed by Rock God SLASH to join his band to play on his sold out tour, she has also played and toured with UFO, Green Jello, punk rock icons Nashville Pussy, and Quiet Riot.
Her third album "No One Can Stop Me" produced by Kim Fowley of the Runaways, KISS, and Alice Cooper fame, her music video Jaibait was number one in Japan.
Fans who call in during the show will be treated to autographed memorabillia, swag and are encouraged to call in and join the fun 323 203 0815.
JOIN AMBER LYNN ROCK'N'SEXXXY UNCENSORED
this Thursday, JANUARY 19,  7pm PT/10pm ET on LATalkRadio.com and Stitcher.com. Visit the RNSU Blog at ROCK-N-SEXXXY-UNCENSORED.COM for guest updates, photos, news. If you miss the show, download it at iTunes. And please, follow us on @RockNSeXXXyU ,@XXXAmberLynns, @AmberLynnMedia