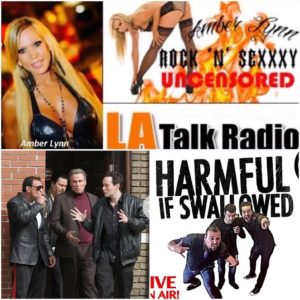 Amber Lynn Rock'N'SeXXXy UnCensored Welcomes, Actress, Model, Video Vixen Jenna Hess as Co-host, the Cast of Gotti starring John Travoltra, actors Spencer Lo Franco, Leo Rossi, Peter Gaudio(Cruise) , Harmful If Swallowed new single "Blame" will be live on this weeks show.
HOLLYWOOD, Calif – Amber Lynn Rock'N'SeXXXy-Uncensored has been working overtime taking the radio airwaves by storm each week with celebrity guests and co hosts from the Adult, Mainstream,& Music world even more exciting than the last and this Thursdays RNSU show promises to be no exception.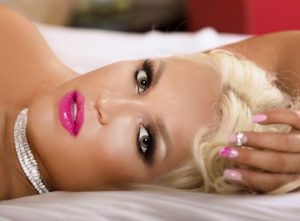 This Thursday on Rock'N'SeXXXy Uncensored, Amber Lynn Welcomes back to the co-host seat by popular demand actress, model, video vixen, Miss Jenna Hess, she co-starred with Angie Everhart, and Traci Lords in the made for television pilot "Model Citizen", she has some very exciting new projects including a new music video to share with listeners. She will join host Ms Lynn in welcoming a special visit from the cast of the upcoming mob epic GOTTI The Life and Death of John Gotti starring John Travoltra as the famous mob boss in his true life story.Visiting the show this week fresh from the film set in NYC actors Spencer Lo Franco, Leo Rossi who also wrote the movies screenplay and actor Peter Gaudio who also appears in the new Robert Segal film "Cruise" along with Emily Ratajkowski and Spencer Boldman, and you just never know who else might drop in so dont miss it!
Then RNSU welcomes this weeks music guest "Harmful if Swallowed" the band  will join the show live with a brand new single "Blame" to share with listeners along with details of an upcoming tour.
Fans who call in during the show will be treated to autographed memorabillia, swag and are encouraged to call in and join the fun 323 203 0815.
JOIN AMBER LYNN ROCK'N'SEXXXY UNCENSORED this Thursday, FEB 23,  7pm PT/10pm ET on LATalkRadio.com and Stitcher.com. Visit the RNSU Blog at ROCK-N-SEXXXY-UNCENSORED.COM for guest updates, photos, news. If you miss the show, download it at iTunes. And please, follow us on  twitter @RockNSeXXXyU and @XXXAmberLynns