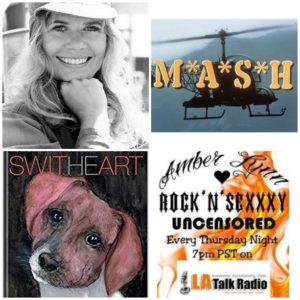 Actress Loretta Swit on Amber Lynn's Rock'N'Sexxxy Thursday
Amber Lynn Rock'N'SeXXXyUncensored LATalkRadio welcomes Emmy-award winning actress Loretta Swit, "Hot Lips" Houlihan on M*A*S*H* and author of new book "SwitHeart."
HOLLYWOOD, Calif – Amber Lynn Rock'N'SeXXXy Uncensored on LATalkRadio has been working overtime, taking the radio airwaves by storm each week – with celebrity guests and co-hosts from the music, film and entertainment world – making each week more exciting than the last. This week's RNSU show promises to be no exception.
This week marks the 45th anniversary of iconic '70s television series M*A*S*H*. Actress Loretta Swit, who famously played the role of Margaret "Hot Lips" Houlihan on the show, will be Rock'N'Sexxy's superstar guest this week. She'll be talking to Amber about her career and starring in the now classic series, as well as her new book "SwitHeart."
The Korean War era comedy about the members of the 4077th U.S. Army medical and surgical hospital starred an all-star cast of memorable actors including Alan Alda, Wayne Rogers, McLean Stevenson, Larry Linville, Gary Burghoff, Mike Farrell, Harry Morgan, Jamie Farr, William Christopher, and David Ogden Stiers.Who doesn't remember Swit as the female lead Major "Hot Lip's" Houlihan, in a role, which brought her two Emmys and worldwide acclaim?
Her book "SwitHeart" chronicles her artwork and animal advocacy; Swit is a true champion of the animal world. In fact, Swit has devoted decades to animal-related causes and is a strong advocate for animals and animal rights. She was awarded the Global Wildlife Conservation Champion Award by the GES Conservation Fund of Africa. She also was given The Betty White Award by animal nonprofit Actors & Others for Animals last December.
Many fans may not know the multi-talented actress has also been an artist since age six. "SwitHeart" documents her animal portraits along with descriptive anecdotes about each, and her extensive philanthropic work. Proceeds from the book will be donated to charities dedicated to ending animal cruelty.
Swit is currently preparing for upcoming roles, starring in the stage productions of "Six Dance Lessons in Six Weeks" and "Eleanor Roosevelt: Her Secret Journey."
Amber Lynn Rock'N'Sexxxy Uncensored's special guest co-host this week is "Movie, Reviews and More" entertainment reviewer Brian Sebastian. A longtime Hollywood insider, Sebastian also is chief correspondent of The Hollywood Film Festival.
Join AMBER LYNN ROCK'N'SEXXXYU this Thursday, June 8, 7pm PT/10pm ET on LATalkRadio.com and Stitcher.com.
Visit the RNSU Blog at ROCK-N-SEXXXY-UNCENSORED.COM for guest updates, photos, news. If you miss the show, download it at iTunes. And please, follow us on twitter @RockNSeXXXyU
###
https://en.wikipedia.org/wiki/Loretta_Swit