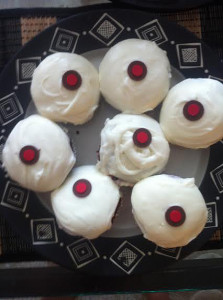 Miss Amber Lynn is a fabulous cook, as already mentioned. She baked up a batch of these cupcakes for XXXmas. Don't they look YUMMY? Hey, wait a minute… they kinda look like… BOOBIES!! Yay!!! Mmmmmmm, rich-velvety mounds of cake slathered in sugary-sweet, lickable, melt-in-your-mouth cream cheese frosting. Don't ya just wanna take a big mouthful and enjoy???
Of course you do. Go ahead – treat yourself – it's the Holly-daze.
There's still time before the Fat Man makes his appearance, so here's a super-good recipe for red velvet cupcakes from Food.com. Better hurry up, Rudolph, we're saving one for ya!