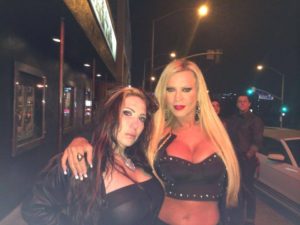 The crew of Rock'N'SeXXXy UnCensored wants to give a BIG thank you shout out to Tony 'Tiny' Biuso, who was SO kind to hook us all up for Camp Freddy last night at The Roxy. Don't tell anybody, but he's the biggest sweetheart you'd ever want to meet.
The place was PACKED, the crowd was ready and the band went OFF, blowing 2013 right the fuck off the calendar. The line-up included Camp Freddy regulars Steve Stevens and Billy Morrison, Matt Sorum and Chris Chaney, and a spirited performance by Miss Courtney Love. Billy Idol was spotted backstage. Much leather, latex, lace, studs and silicone – and that was just Savannah and Amber!
Anyway, it was a great way to ROCK in 2014. We hope that Tony and T.S.O.L. also had a great night in Denver, with punk iconoclast Jello Biafra. Happy New Year everybody. WE LOVE YOU! Wishing everyone health and happiness in 2014.