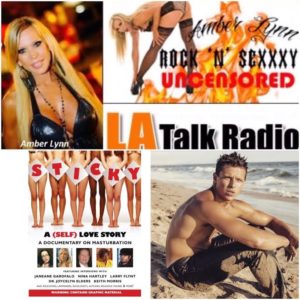 Amber Lynn Rock'N'SeXXXy UnCensored Welcomes, Sticky A (Self) Love Story director/ writer Nicholas Tana, actor Spencer Lo Franco starring in The Life and Death of John Gotti will join this weeks show.
HOLLYWOOD, Calif – Amber Lynn Rock'N'SeXXXy-Uncensored has been working overtime taking the radio airwaves by storm each week with celebrity guests and co hosts from the Adult, Mainstream,& Music world even more exciting than the last and this Thursdays RNSU show promises to be no exception.
This Thursday on Rock'N'SeXXXy Uncensored, Amber Lynn Welcomes Sticky: A (Self) Love Story director/writer Nicholas Tana, and actor Spencer Lo Franco The Life and Death of John Gotti. Live in the studio this Thursday the director and writer of  Sticky: A (Self) Love Story Nicholas Tana, out currently on Amazon the movie that brings to life with an often hilarious yet brilliant spin just what the title promises. Shakespeare wrote about it, and Mark Twain gave an entire speech about it, yet why does the world still find the subject so hard to just openly discuss? This film will give some great insight, while making you laugh at the often absurdity of it all.
Then Part 2 on RNSU coverage of the The Life and Death of John Gotti, as Spencer Lo Franco joins the show, the canadian actor costars as John Travolta's (John Gotti) movie son (Junior) in the much anticipated upcoming feature film "The Life and Death of John Gotti" the biopic of the famous Gambino family Mob Boss, in fact the actual storyline for the film was taken from the book "Shadow of My Father"  written by  John Gotti's real life son "Junior" John Gotti, which chronicles a father and son relationship and how "Junior" was brutally torn between his loyalty to his father and the "Life", and choosing his own life and the future of his family above all else, and his fight for freedom from it all. We will discuss how Spencer Lo Franco brings it all to life in the movie. Lo Franco has also costarred with Angelina Jolie in Universal Pictures award nominated film Unbroken, and At Middleton alongside Andy Garcia, and Vera Farmiga.
Fans who call in during the show will be treated to autographed memorabillia, swag and are encouraged and welcome to call in and join the fun 323 203 0815.
JOIN AMBER LYNN ROCK'N'SEXXXY UNCENSORED this Thursday, March 2,  7pm PT/10pm ET on LATalkRadio.com and Stitcher.com. Visit the RNSU Blog at ROCK-N-SEXXXY-UNCENSORED.COM for guest updates, photos, news. If you miss the show, download it at iTunes. And please, follow us on  twitter @RockNSeXXXyU and @XXXAmberLynns