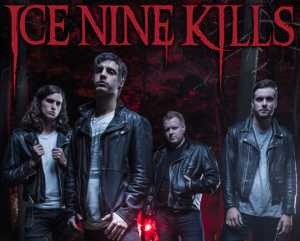 Happy Valentines Day!
Amber Lynn Rock'N'SeXXXy UnCensored, Welcomes  "ICE NINE KILLS"  debuts new song release "The Fastest Way to a Girls Heart is Through Her Rib Cage",  Katie Hall "Playboy TV Reality Series", Starring in the NEW Busta Rymes and QT Genesis music video "Yum Yum" cohosts, with Riley Reynolds "XXX Star"and Lauren Elaine Sandoval "Playboy Morning Show' on this weeks RNSU
SHERMAN OAKS, Calif – Amber Lynn Rock'N'SeXXXy-Uncensored has been working overtime taking the radio airwaves by storm each week with celebrity guests and cohosts from the Adult, Mainstream,& Music world even more exciting than the last and this Thursdays RNSU show promises to be no exception.
This Thursday on Rock'N'SeXXXy Uncensored with Amber Lynn, Katie Hall, "Playboy TV' reality show star, appearing in the "NEW' Busta Rymes and QT Genesis music video "YUM YUM" cause she is just so damn Yummy will sit in the prestigious cohost seat, along with a "Valentines" cast of cuties to set anyones HEART ON fire, "XXX Star" Riley Reynolds and Lauren Elaine Sandoval model from "The Playboy Morning Show" packs the house.
Come celebrate a RNSU-" Happy Valentines day", our special music guest is the Bostonian metal core band "ICE NINE KILLS" debuting their newest song "The Best Way To A Girl's Heart Is Through Her Rib Cage" wrapped in a 50's themed music video that starts of like a cool old Re Run of "Happy Days", that quickly meets "Carrie" it'll rip your heart out. Since their birth in 2006 "Ice Nine Kills" have released 3 full length albums, "Last Chance to Make Amends", "Safe is Just A Shadow" and "The Predator becomes the Prey", the groups founder and front man Spencer Charnas joins the show this Thursday, although probably not protesting he'll be "heavily" out numbered on the show by all this female talent. check out "ICE NINE KILLS" Kleaver Clothing Swag here: www.facebook.com/kleaverklothing
Also checking in on "Da SeXXXy Patrol" Michael Nirenburg, director of "Back Issues" The Hustler magazine story movie that chronicals the rise of one of the greatest Adult magazine empires ever created by Mr Larry Flynt and RNSU host Amber Lynn also appears in the film talking about her prolific adult career.
As you can see the stage is set again this week for another "Amazing" episode of Rock'N'SeXXXy Uncensored Radio so make sure you tune in.Fan's are encouraged to call in and join the fun 323 203 0815
JOIN AMBER LYNN ROCK'N'SEXXXY UNCENSORED this Thursday, January 29, 7pm PT/10pm ET on LATalkRadio.com and Stitcher.com. Visit the RNSU Blog at ROCK-N-SEXXXY-UNCENSORED.COM for guest updates, photos, news. If you miss the show, download it at iTunes. And please, follow us on  twitter @RockNSeXXXyU and @XXXAmberLynns