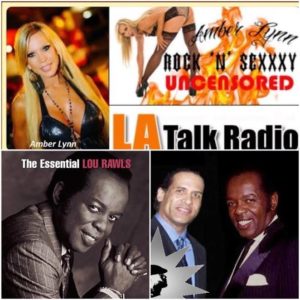 Amber Lynn Rock'N'SeXXXy UnCensored Welcomes, Lou Rawls Jr, son of the late legendary  Lou Rawls  "You'll Never find Another Love Like Mine" , creator of "Through The Eye's of a Son" the Lou Rawls biopic will be live on this weeks show.
HOLLYWOOD, Calif – Amber Lynn Rock'N'SeXXXy-Uncensored has been working overtime taking the radio airwaves by storm each week with celebrity guests and co hosts from the Adult, Mainstream,& Music world even more exciting than the last and this Thursdays RNSU show promises to be no exception.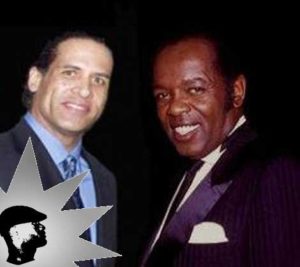 This Thursday on Rock'N'SeXXXy Uncensored, Amber Lynn Welcomes this week's special guest a bit of true Hollywood music royalty Lou Rawls Jr,  no stranger to the world of entertainment, being the son of the legendary music pioneer Lou Rawls, a three time Grammy award winner, who released more than 60 albums and sold more than 40 million records most notably, "You'll Never Find Another Love Like Mine', and "Don't Let Me Be Misunderstood" and so many more.
Following in his fathers footsteps Lou Rawls Jr has spent his entire life immersed in music adding his own swagger to timeless classics popularized by his father Lou Rawls who is regarded by many as one of the greatest entertainers of all time.
Lou Jr has an LP he's currently working on featured on the album is a collaboration with the elusive Won'G entitled "Winner". Lou Rawls Jr. is a celebrated entertainer whose wish is to continue the legacy of his legendary father Lou Rawls, actor Isaiah Washington wil portray Lou Rawls in the movie "Through the Eyes of a Son" cowritten by Lou Rawls Jr. and Robert Egan according to the script Rawls had a traumatic life, endured a poverty stricken childhood and an adulthood with intense marital strife. "It's the untold side of a glamorous life, what we didn't know about the turmoil and chaos behind the beautiful music". Lou Rawls Jr will be live on Rock'N'SeXXXyU radio with host Amber Lynn discussing his own life and music career, the Lou Rawls biopic and what is was like to grow up in the shadow of a legend of such magnitude, and more.
Fans who call in during the show will be treated to autographed memorabillia, swag and are encouraged to call in and join the fun 323 203 0815.
JOIN AMBER LYNN ROCK'N'SEXXXY UNCENSORED
this Thursday, December 1,  7pm PT/10pm ET on LATalkRadio.com and Stitcher.com. Visit the RNSU Blog at ROCK-N-SEXXXY-UNCENSORED.COM for guest updates, photos, news. If you miss the show, download it at iTunes. And please, follow us on  twitter @RockNSeXXXyU and @XXXAmberLynns