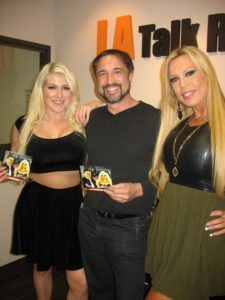 Wow – Nikki Phoenix and Miles Long on the show last week. Long time, no see with Miles, so it was fun to catch up and see what he's been doing lately. Some mainstream projects have him shooting magazine covers and billboards, using his special touch. Some may not realize that Miles is a triple Hall of Famer (AVN, XRCO and Urban X) and that he was mentored by both legendary directors Andrew Blake and Michael Ninn. Not. Too. Shabby.
Luscious and lovely, Nikki Phoenix is a breakout performer in several arenas. First, we talked bout her new single with DJ Nilsson, "My Addiction," and we played the track for listeners. A very, very seXXXy groove. Nikki is very passionate about many things – she recently launched her own website; she's getting ready to be busy with several upcoming roles; and she's writing a fitness book. It's hard to believe, but Nikki started in the adult business after losing 120 lbs! Adult modeling and performing help her build her confidence after being overweight for several years. Her diet is based on healthy eating and exercise – very simple, she said.
Both Miles and Nikki are so sweet. Wished we would have had more time with them and hoping they'll be back soon. In the meantime, you can listen to the show here.