Where does Amber find these girls? These SEXXX bomb, blonde, leggy, lovely women? Tonight, it's our pleasure to welcome adult performer and December 2013 HUSTLER cover model Jessa Rhodes to the show.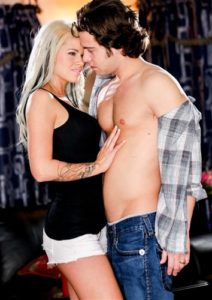 On her Twitter, a quote from Oscar Wilde, "You will always be fond of me. I represent to you all of the sins you never had the courage to commit." Indeed. Those words only hint at how deliciously sinful Miss Jessa can be.
A popular feature dancer, cultivating a big fan base for her club appearances and her scenes. Amber also is a veteran of the club circuit, so there should be some interesting chat about life on the road.
Jessa also is a devoted animal rights advocate and hopes to open an animal rescue facility one day. Compassionate treatment of animals is a cause that all of us at Rock'N'SeXXXy support, as do many in the adult industry and other entertainment media.
We're curious about Jessa. What's her favorite move onstage when she's dancing? What's her favorite animal? What's it really like to be so beautiful? You know, stuff like that 🙂
Remember to join to Amber Lynn Rock'N'SeXXXyUnCensored, every THURSDAY, 7pm PT/10pm ET on LATalkRadio.com and Stitcher.com. Visit the RNSU Blog for guest updates, photos, news. If you miss the show, download it at iTunes. And please, follow us on Twitter @RockNSeXXXyU and Facebook. Check us out tonight!