It's rare, but every once in awhile, porn stars align across the XXX universe, across space and time, and you get women of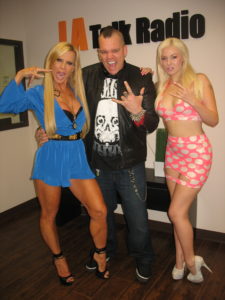 different X-rated eras together for a chat – that's what happened last Thursday on Rock'N'SeXXXy UnCensored.
Representing that brand new, starry-eyed young beauty – fresh from right off of the bus – was super new starlet Jenna Ivory. Amber Lynn and Jenna met at the XRCO Awards (Jenna's very first XRCO event) just the night before, and came into the studio for one of her very first radio interviews. Pretty as a princess at a ball, Jenna has really done very few scenes and is only doing girl/girl for now.
ALSO on the show last week – the awesome woman that is everywhere right now, Miss Bonnie Rotten. Already recipient of Best Female Performer at January's AVN Awards, Bonnie kicked ASS on the Super Slut award and then called into RNSU the very next night! In fact, Bonnie called from set, where she had just completed another extreme scene – literally calling us after wiping her face clean from the festivities. She's so awesome, though, nothing phases her. In fact, she's pretty fucking stoked.
Like in any other industry, performers give each other tips. Co-host Tiny Biuso agreed that musicians are always showing a band mate how to play a riff or do a trick. So, no surprise that women in the adult industry sometimes help a sista out with some pointers. For a young performer like Jenna, there's a lot to learn regarding make-up, photography, wardrobe, how to pose, different sexual positions and acts, healthcare & hygiene – and that's just for starters!
Amber admitted, in 1983, when she arrived in the business, that she was sexually-inexperienced. Then using her hands, Amber demonstrated an oral sex technique that looked like a couple of slaps and some yanking – Jenna looked confused, probably because without an actual PENIS to practice on, it was kinda confusing. And Tiny wasn't volunteering.
Then, just as Amber explained that she'd learned the oral maneuver from classic adult star Karen Summer – Karen Summer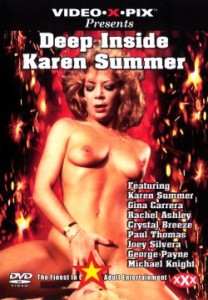 calls into the show!! Also seen at the XRCO, Karen sounded thrilled to be back in the limelight and camera flashing.
Miss Rotten has enough energy to launch an armada, and a can-do attitude that has gotten her to the top of the industry in short order. She represents the intelligent, alternative young woman that is all about pushing the limits, doing it her way, being up-front and out-front – what some feminists might call "empowered." Bonnie's got the power, alright.
So, when Amber asked Bonnie what advice she had for young Jenna, Bonnie came straight out and said, "NEVER be desperate in this business. Because if you're desperate, then they've got you." Without sounding ominous, that is a wise piece of advice (for any girl, in any profession).
Amber will be at the Chiller Theater Expo in Parsippany, NJ, this weekend. SO, we're rerunning the show we did in February with Cypress Hill's B Real and super HOT starlet Nikita Von James.
JOIN US on May 1st, MAY DAY for a brand new show. Amber Lynn Rock'N'SeXXXy UnCensored airs every Thursday night, 7pm PT/10pm ET on LATalkRadio.com and Stitcher.com. Visit the RNSU Blog for guest updates, photos, news. If you miss the show, download it at iTunes. And please, follow us on Twitter @RockNSeXXXyU and Facebook. AND CALL US when the show is on LIVE at 323-203-0815.