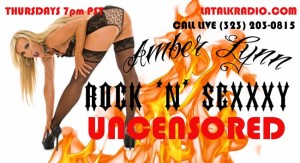 SHERMAN OAKS, Calif – Amber Lynn Rock'N'SeXXXy-Uncensored has been working overtime taking the radio airwaves by storm each week with celebrity guests and cohosts from the Adult, Mainstream,& Music world's even more exciting than the last and this Thursdays RNSU show promises to be no exception.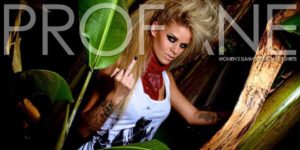 Our resident cohost  Kristen Renton will be absent on this Thursdays RNSU broadcast, she will be shooting an episode on the FX networks TV show "Anger Management"  playing the reoccuring romantic interest of the shows star super  badboy"Charlie Sheen, but her seat will be filled with none other than "XXX Star Mega Blonde bombshell" Jessa Rhodes who returns to the show for her third time by popular demand and over whelming listener request."Do we feel another "Legend" in the making?, maybe so". Say's RNSU host Amber.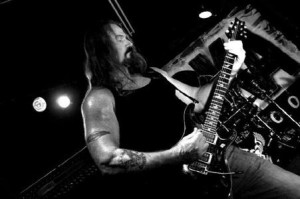 On the heels of the FXSOA Season 7 Final Ride Finale – Rock'N'SeXXXy Uncensored radio is excited to Welcome a guest who lives and breathes Metal and Motor Cycles, Real American Outlaw Motorcycle Legend Rusty Coones, you may know him as his character on  Fx Tv " Sons of Anarchy's,"  Rane Quinn, a Redwood original member of SAMCRO or the towering lead guitarist of metal rock band-  Attika 7 fronted by TV star of the series "OZ" and former pornstar Evan Seinfeld visiting over 40 cities nationwide in 2014, currently premieres their newest song release "Darkest Days's. Rusty, is also founder of  "Illusion Motorsports" of Orange County and has built some of the most exotic creations on two wheels,  all would agree this 6ft 6 inch Beast is the REAL Deal!. Rusty is currently in the OC rehearsing with the rest of the members of  Attika 7  for an appearance this Sunday Oct 26 at KNOT FEST in San Bernadino at the San Manuel Ampitheatre, and will be checkin in with Da' Rock'N'SeXXXy Patrol with ALL the details on this Thursdays  RNSU show, and maybe some stuff from the FX SOA Final Ride and whats UP with the world of Rusty along with his "Knock out" wife, fellow philanthropist and cofounder of "Illusion Motorsports, O.C. Ko Coones.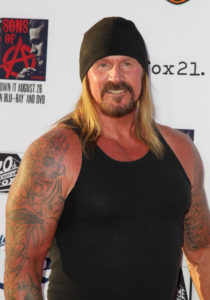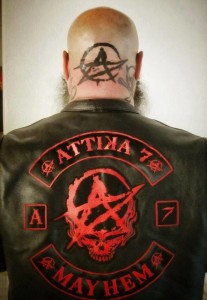 Also adding to the Halloween festivities on the show, Tom Sullivan well known special effects genious of the Sci fi horror classic films  Evil Dead , The Fly 2 and creator of the Book of Necronomics. Add to all this together and  This Thursday's  Rock-N-SeXXXy-Uncensored promises to be another exciting adventure!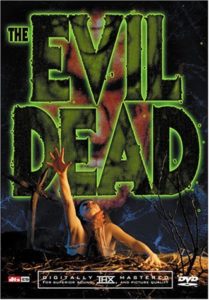 JOIN AMBER LYNN ROCK'N'SEXXXY UNCENSORED
this Thursday, October 23 , 7pm PT/10pm ET on LATalkRadio.com
Fans are invited to call us on air at 323 203- 0815 join the fun.
Visit the RNSU Blog at Rock-N-SeXXXy-Uncensored.com  for guest updates, photos, news. If you miss the show, download it at iTunes,Stitcher and LATalkRadio.com
Check out our Blog: Rock-n-Sexxxy-Uncensored. com And please, follow us @RockNSeXXXyU @XXXAmberLynns