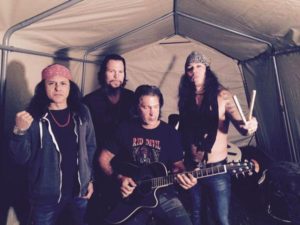 Amber Lynn Rock'N'SeXXXy UnCensored KICK'S OFF OCTOBER FEST and  HALLOWEEN SEASON with "LYNCH MOBB" Jimmy D'Anda, actor John Scott Freda, "The Family" costarring Robert Deniro, Tommy Lee Jones, Michelle Pfeiffer this week.
SHERMAN OAKS, Calif – Amber Lynn Rock'N'SeXXXy-Uncensored has been working overtime taking the radio airwaves by storm each week with celebrity guests and co-hosts from the Adult, Mainstream,& Music world's even more exciting than the last and this Thursdays' RNSU show promises to be no exception.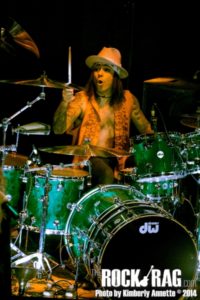 This week Amber Lynn Rock'N'SeXXXy Uncensored welcome's as special music guest Jimmy D'anda, drummer for the legendary rock group "Lynch Mobb", D'anda originally played drums with another rock legend "The Bullet Boy's" (another RNSU guest), releasing 3 albums with the band including the famous "Wayne's World" film track and touring the world in the 90's -2000's headlining with acts like Cheap Trick, before signing on in 2003 with "Lynch Mobb" featuring George Lynch the original guitarist of Dokken, named one of the top 25 rock guitarists, and our friend Sean McNabb former bassist for "Quiet Riot". Truthfully, from reading up on the press the band has changed members enough times to make our head spin, and we are looking forward to getting the latest scoop from Jimmy D'Anda who will be LIVE this Thurs on RNSU.
then actor John Scott Freda joins the show. He can currently be checked out in the feature film "The Family", he plays Rocco, with it's costars Robert Deniro, Tommy Lee Jones and Michelle Pfeiffer, and if you happen to be in the NYC area also check out his one-man 75 minute show about legendary entertainer Jimmy Durante for more information listen in on RNSU this Thurs.
Fan's are encouraged to call in and join the Fun  at 323 203 0815 for your convenience here's a direct access link to the show;  http://latalkradio.com/Amberlynn.php 
Join Amber Lynn- Rock-N-SeXXXy-Uncensored this Thursday, October 1, 2015 on LATalkradio.com 7 Pm Pst/10 Pm Est Call Us Live 323 203 0815 and Join in the Fun! if you miss the show replay available download on Itunes & Sticher.com, check out our Blog at Rock-N-SeXXXy-Uncensored.com follow us on twitter.com/@RockNSeXXXyU, @AmberLynnMedia @XXXAmberLynns