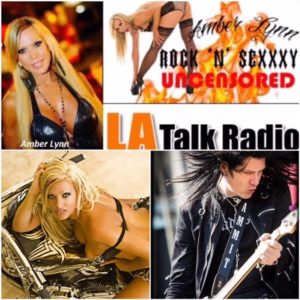 Amber Lynn Rock'N'SeXXXy UnCensored Welcomes, Todd Dammit Kerns guitarist TKO #Slash , Actress, Model, Krista Grotte star of the new action biker epic "Nation's Fire", the films award winning director Thomas J. Churchill, highlights of the memorial for adult industry historian, William "Bill" Margold PAW "Papa Bear" on this weeks show.
 HOLLYWOOD, Calif – Amber Lynn Rock'N'SeXXXy-Uncensored has been working overtime taking the radio airwaves by storm each week with celebrity guests and co hosts from the Adult, Mainstream,& Music world even more exciting than the last and this Thursdays RNSU show promises to be no exception.
This Thursday on Rock'N'SeXXXy Uncensored, Amber Lynn Welcomes mainstream actress, and model Krista Grotte star of the upcoming action biker epic Nation's Fire the latest incarnation from award winning director Thomas J. Churchill who will also be on the show to share some exciting details of the newest movie project. Krista Grotte who recieves glowing reviews for her acting capacity from countless directors who have worked with her and was awarded Best Actress at Floridas Crystal Reel awards for her films Emerging Past, and Alarion, she is also a knock out ,with appearances  In the Top 25 of the 101 most beautiful internet models,  American Curves magazines and the Playboy Mansion. Her film work includes Death on Demand, The Nigthtmare Collection, Emerging Past, Pussey, Alarion, Marilyn Monroe Zombie Hunter, The Ladies of the Night, and in 2017 Check Pointe and the upcoming Rack Pack.
Then back by popular demand the return of Todd Dammit Kerns the Canadian rock guitarist who's been currently touring with Slash, as well as pumping out his own solo works TKO released in 2016 his follow up to "Borrowing Trouble". Todd is in town for a return appearance at Hollywood Hot Spot Genghis Cohen Friday Feb. 3 for more info on tickets and show time GenghisCohen.com or call 323 653-0640
also, some highlights from the memorial of Industry historian PAW founder, APAG senior advisor Bill Margold whos sudden passing brought out some of the adult industries most famous, to share some love, fond memories and good barbecue.
Fans who call in during the show will be treated to autographed memorabillia, swag and are encouraged to call in and join the fun 323 203 0815.
JOIN AMBER LYNN ROCK'N'SEXXXY UNCENSORED
this Thursday, Feb 2,  7pm PT/10pm ET on LATalkRadio.com and Stitcher.com. Visit the RNSU Blog at ROCK-N-SEXXXY-UNCENSORED.COM for guest updates, photos, news. If you miss the show, download it at iTunes. And please, follow us on  twitter @RockNSeXXXyU and @XXXAmberLynns