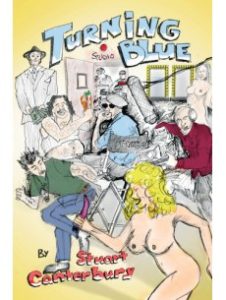 Amber Lynn Rock'N'SeXXXy UnCensored welcomes Veteran award- winning adult movie director, Stuart Canterbury, author of "Turning Blue", and award- winning feature film, commercial, and music video director Thomas Mignone, creator of "The Vanessa del Rio Movie" this week.
 Amber Lynn Rock'N'SeXXXy-Uncensored has been working overtime taking the radio airwaves by storm each week with celebrity guests and co-hosts from the Adult, Mainstream,& Music world's even more exciting than the last and this Thursdays' RNSU show promises to be no exception.
This week Amber Lynn Rock'N'SeXXXy Uncensored welcome's the return of award-winning director and creator Thomas Mignone, the American feature film, commercial and music video director , screenwriter who is currently in pre-production of "The Vanessa del Rio Movie" which star Zulay Henao, Drea de Matteo, RZA, Tarryn Manning and more. He has also directed the dark feature film "On the Doll" as well as MTV award winning music videos for "MudVayne", "Slipknot", "System of a Down", and "Sepultura".
with veteran adult movie producer, director, author Stuart Canterbury, with over 300 major adult feature films to his credit, along with a string of awards and nominations. He has produced and directed titles for major adult industry studios such as Penthouse, Hustler, Adam & Eve, Brazzers and more. He has authored a book titled, "Turning Blue", A hilarious blow by blow account inside the X-rated movie industry, of what goes on behind the scenes of X-rated productions. Turning Blue provides a riveting glimpse of the colorful characters and outrageous situations in a veiled and fascinating world, where sex, money entertainment and celebrity connect in a billion dollar global industry.
He is currently in development with director Thomas Mignone to turn the book into a TV series. They will both be on the show both discussing highlight's from each of the director's prolific, diverse and interesting career's, the book "Turning Blue" as well as plans for the new TV series, and an update on "The Vanessa del Rio Movie" currently underway.
Also a very special surprise guest may be joining the show tomorrow should her movie shooting schedule permit, she is definitely one of the hottest female performer's working, today but you'll have to listen to the show to find out who it is, so don't miss it.
Fan's are encouraged to call in and join the Fun  at 323 203 0815 for your convenience here's a direct access link to the show;  http://latalkradio.com/Amberlynn.php 
Join Amber Lynn- Rock-N-SeXXXy-Uncensored this Thursday, September 23 on LATalkradio.com 7 Pm Pst/10 Pm Est Call Us Live 323 203 0815 and Join in the Fun! if you miss the show replay available download on Itunes & Sticher.com, check out our Blog at Rock-N-SeXXXy-Uncensored.com follow us on twitter.com/@RockNSeXXXyU, @AmberLynnMedia @XXXAmberLynns