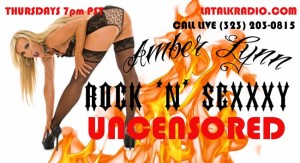 Amber Lynn Rock'N'SeXXXy UnCensored & cohost  Kristen Renton, Welcome to This Week's RNSU Show- "Monster Rock Metal"- DOYLE "Abominator" Wolfgang Von Frankenstein- Legendary former Misfits Guitarist . Anthony "TINY BUBBS" Biuso former drummer – Punk Legends TSOL. BRAD CARTER Premiering on FX TV's  Son's of Anarchy Season 7- Final Ride. Burlesque Queen Vanessa Burgundy anounces Amber Lynn tribute review plans for 2015 this week.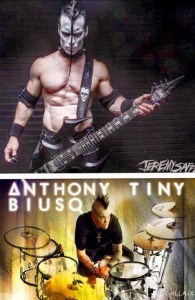 Amber Lynn's New Resident Cohost  Kristen Renton who is known for her role she plays as porn star Ima Tite on the popular FX Tv show "Sons of Anarchy," returns as cohost this week to
 RNSU  to Join Amber Lynn Live in the studio with special featured guests; Monster Rock Metal guitarist DOYLE Wolfgang Von Frankensten formerly of "Misfits" currently touring with his album Abominator with TINY BIUSO "Tiny Bubbs" drummer formerly with punk legends TSOL in house and  – BRAD CARTER actor premiering on FX TV hit series' Son's of Anarchy" season 7 Final Ride & Burlesque Queen VANESSA BURGUNDY announces Amber Lynn "tribute" review for Valentines  day 2015 this week on RNSU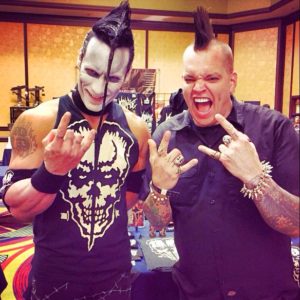 SHERMAN OAKS, Calif – Amber Lynn Rock'N'SeXXXy-Uncensored has been working overtime taking the radio airwaves by storm each week with celebrity guests and cohosts from the Adult, Mainstream,& Music world even more exciting than the last and this Thursdays' RNSU show promises to be no exception
FX TV's "Son's of Anarchy' star Kristen Renton is back as cohost and Joins Amber Lynn in welcoming to this weeks RNSU broadcast- "Monster Rock"  DOYLE Wolfgang Von Frankenstein Legendary former Misfits guitarist currently touring with his solo project Doyle Abominater. ANTHONY TINY BIUSO  former drummer for punk legends TSOL,.host of Tiny Talk TV

BRAD CARTER premieres on FX TV's series Son's of Anarchy Season 7 #Finalride and VANESSA BURGUNDY Burlesque Queen announces Amber Lynn tribute review plans.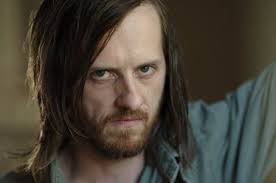 "We are Very Excited about our show guest line up for this Thursday night on Rock'N'SeXXXy Uncensored, "
"Monster Rock Metal"- DOYLE WOLFGANG VON FRANKENSTEIN, Legendary X Misfits guitarist DWVF has broken New ground of his own with SOLO project "Doyle" a Horror based Hard/Rock metal band. along with Alex Story vocalist, Graham Reaper bass and on this last tour leg replacing DR. Chud,on drums RNSU's own  often times CoHost Tiny "Bubbs" Biuso, former TSOL drummer Host of Tiny Talk TV will  be LIVE in the LATalkRadio studio THURSDAY night helping host Doyle who it's said cranks out music as scary as the "Misfits", doom laden as Black Sabbath and as Hard hitting as Motorhead or Slayer, celebrating his success with Abominator to "Kick Off" the Halloween season.
Brad Carter, Film/TV actor premiering on FxTV's " Son's of Anarchy" season 7 #FinalRide recently earning critical aclaim in the HBO Emmy nominated series "True Detective",multi talented actor, musician, comedy writer joins the final season of FX TV series "Son's of Anarchy", also soon to star in "Syfy" new series "Ascension" in addition to releasing his debut solo album, & costarring with Johnny Depp in Warner Brothers "Black Mass"
Saving the best news for last! Vanessa Burgundy, direct from island of the "Misfit" toys Hollywood, California Queen of Burlesque, joins  show hosts Amber Lynn and Kristen Renton LIVE in the LATalkRadio studio to announce " the Amber Lynn Tribute Burlesque show" currently in Planning Pre production for Valentines day 2015.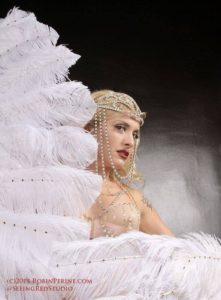 Kristen's reccurring role of porn star Ima Tite has made her popular with SAMCRO fans. Soap opera fans remember her from her role as Morgan Hollingsworth on NBC's "Days of Our Lives."  Other television work includes appearances on "The OC," "The Glades," "Arrested Development," "CSI NY" and "CSI Miami," to name just a few. and Amber Lynn, well after 30 years in the adult business and over 350 popular  movies, and 200 magazines and Feature dancing all across the US and Canada everyone knows Amber Lynn!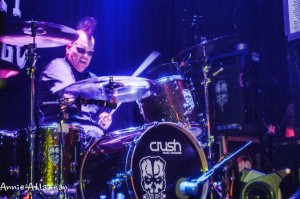 JOIN AMBER LYNN ROCK'N'SEXXXY UNCENSORED
this Thursday,October 16  at 7pm PT/10pm ET on LATalkRadio.com and Stitcher.com. Visit the RNSU Blog for guest updates, photos, news and sponsorship information at Rock-N-SeXXXy-Uncensored.com follow us Twitter/ @RockNSeXXXyU Amber Lynn/@XXXAmberLynns