Wow, our Miss Amber is back from the Chiller Theater Expo that took place this past weekend in Parsippany, NJ, and she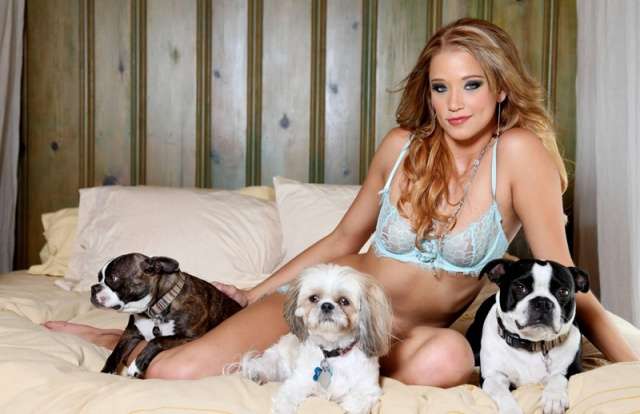 brought some friends with her! Visiting Rock'N'SeXXXy UnCensored this THURSDAY NIGHT, "Sons of Anarchy" star Kristen Renton (who plays porn star Ima Tite) and actor Clifton Collins, Jr of "The Boondock Saints 2" and numerous other roles.
"Oh my God, we had so much fun in New Jersey," said Amber. "Kristen is just very cool and Clifton is SO good-looking. It's really nice of them to come by and do the show – and we are so excited because lots of fans that enjoy adult also are SOA fans."
"Sons of Anarchy" has been on the air since 2008, and is FX Channel's highest rated show to date. However, the upcoming seventh season (scheduled to premier in September) will be the last for SAMCRO. Rumors have it that the last season of "SOA" may be entirely in black and white. Anyway, maybe Kristen will have some clues for our listeners on what they can expect in the final episodes. Kristen and Amber may share some tips on playing a proper porn star, so you don't want to miss that. And since Amber, Kristen, and producer Jojo are all insane animal advocates, there will be a talk about everyone's pets – and we'll have to see what kind of animals Clifton is into 😉
Clifton comes from a longtime LA-area, Latino acting family; in fact, his grandfather was in the 1959 John Wayne classic, "Rio Bravo." IMBD refers to Clifton as a "chameleon," so it'll be fun to talk about what it's like in HOLLYWOOD these days, what it's like for young actors – and we want to see if Clifton is rock'n' his mohawk (like in the video below) – we LOVE that.
JOIN US THURSDAY, 7pm PT/10pm ET on LATalkRadio.com and Stitcher.com. Visit the RNSU Blog for guest updates, photos, news. If you miss the show, download it at iTunes. And please, follow us on Twitter @RockNSeXXXyU and Facebook.