Whatever you do, DON'T miss tomorrow night on Amber Lynn Rock'N'SeXXXy UnCensored. We are SO pleased and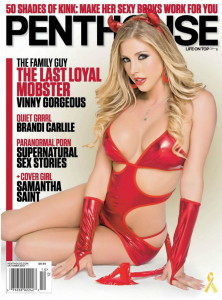 happy that Wicked Pictures contract star Samantha Saint will be joining us LIVE. This girl is on fire! She's been a Penthouse Pet, she's a Wicked girl, and she's been mentioned in Hollywood gossip columns for her onscreen antics – but what's a blonde bombshell to do? One look at that rock'n body and men go crazy.
We want to know ALL Samantha's seXXXy secrets – because behind that saintly exterior, there's a mischievous devil inside. FANS can call in while we're live, on-air at 323-203-0815 – we'd love to hear from you.
Tomorrow night is shaping up to be quite a dishfest, because also on the show will be Morgana Welch, author of "The Hollywood Diaries." An angel of the Sunset Strip, Morgana will talk about her life as a '70s groupie muse to iconic rockers like Jimmy Hendrix, David Bowie, Iggy Pop, Robert Plant, Jimmy Page, Roy Harper, and basically the HOT musicians of the day. And what an incredible opportunity to hear about the history of the Sunset Strip, places like Gazzarri's, the world famous Whisky A Go Go, and the Rainbow. And we want to talk to Morgana about the things she's doing now, with meditation and life-coaching.
Amber Lynn Rock'N'SeXXXy UnCensored is every Thursday night at 7pm PT/10pm ET on LATalkRadio.com and Stitcher.com. Download at iTunes. Follow us @Rock'N'SeXXXyU and Facebook. Call us LIVE during every show at 323-203-0815, or shoot us an email at the RNSU blog.